Therapeutic approaches for corneal neovascularization
Received: 14 September 2017
Accepted: 26 November 2017
Published: 10 December 2017
Abstract
Angiogenesis refers to new blood vessels that originate from pre-existing vascular structures. Corneal neovascularization which can lead to compromised visual acuity occurs in a wide variety of corneal pathologies. A large subset of measures has been advocated to prevent and/or treat corneal neovascularization with varying degrees of success. These approaches include topical corticosteroid administration, laser treatment, cautery, and fine needle diathermy. Since the imbalance between proangiogenic agents and antiangiogenic agents primarily mediate the process of corneal neovascularization, recent therapies are intended to disrupt the different steps in the synthesis and actions of proangiogenic factors. These approaches, however, are only partially effective and may lead to several side effects. The aim of this article is to review the most relevant treatments for corneal neovascularization available so far.
Keywords
Corneal neovascularizationAngiogenesisAngiogenic therapies
Background
A normal transparent cornea is essential to provide an appropriate anterior refractive surface, and maintaining corneal avascularity is a vital characteristic of corneal physiology. Corneal disease is the third most common cause of blindness worldwide, and corneal neovascularization is present in most affected cases [1]. The results of one study demonstrated that angiogenesis can be observed in 19.9% of human corneal buttons excised during corneal transplantation [2]. It is estimated that 1.4 million people develop corneal neovascularization per year, 12% of whom suffer the subsequent loss of vision [1].
Abnormal, new grown blood vessels in corneas sprout from pre-existing pericorneal vascular structures. Corneal neovascularization, which is a nonspecific response to different clinical insults than a diagnosis, occurs in a wide variety of corneal pathologies including congenital diseases, contact lens-related hypoxia, inflammatory disorders, chemical burns, limbal stem cell deficiency, allergy, trauma, infectious keratitis, autoimmune diseases, and corneal graft rejection [3]. These pathologies lead to a disequilibrium between proangiogenic and antiangiogenic factors that can result in the proliferation and migration of vascular endothelial cells into the corneal stroma [4, 5]. Neovascularization is a frequent complication of corneal infection, and the prevalence of infectious keratitis reflects a general picture of the extent of corneal neovascularization that occurs worldwide. Approximately, 15% of world blindness (6 million people) are caused by chlamydial infections and 146 million cases have an active infection [6]. Onchocerciasis infection is another significant cause of blindness caused by corneal neovascularization, and is reported to have blinded approximately 270,000 cases, with 120 million people worldwide at risk [6]. Herpetic keratitis is estimated to affect 500,000 cases in the USA [1]. Corneal neovascularization is also a feature of contact lens wear, particularly extended-wear usage of soft hydrogel lenses, with 1.3% of 9 million contact lens wearer estimated to have new corneal vessels [7]. Neovascularization is part of the repair of extensive chemical damage to the cornea. The prevalence of neovascularization caused by all types of chemicals (varnish removers, dyes, acids, and alkali) is approximately 37,000 cases in the USA [1].
Corneal neovascularization can lead to a decrease in visual acuity because of oedema, persistent inflammation, intrastromal protein and lipid deposition, and scarring. Moreover, a strong association between the vascularization of the recipient cornea and corneal graft rejection has been reported with the increasing risk as more areas are affected by vessels [8–12]. The formation of corneal vessels is also associated with corneal lymphangiogenesis, which enables the exit of antigens and antigen presenting cells to the regional lymph nodes [13]. There is a higher chance of lymphatic vessels being present in heavily vascularized corneas compared with mildly vascularized corneas [14]. Corneal lymphatics in vascularized recipient corneal beds adjacent to transplanted tissue can promote graft rejection through enhancing the traffic of graft-derived antigen to regional lymph nodes [15, 16].
Review
A PubMed review was performed, analysing all publications from 1968 to 2017 concerning the topic "corneal neovascularization" (keywords: cornea, new vessels, neovascularization, and angiogenesis). Animal and human studies, published in English (full text), were included for this review.
Pathogenesis
Corneal avascularity, also called corneal angiogenic privilege, results from a balance between naturally present proangiogenic and antiangiogenic factors (Fig.
1
). This angiogenic privilege is an active process. Central molecular pathways prevailing in the processes of corneal neovascularization appear to be shared among various situations and include an imbalance between proangiogenic and antiangiogenic agents, leading to an excess of proangiogenic stimuli.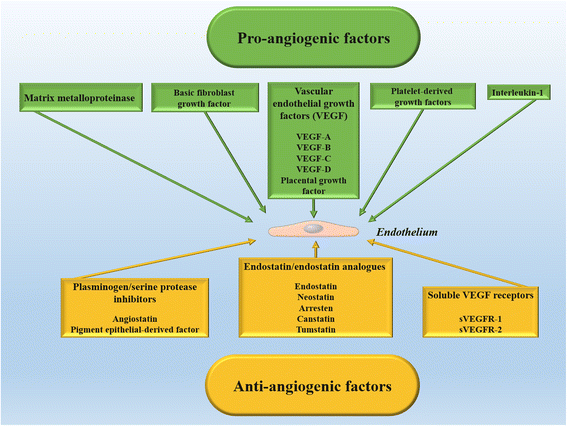 Angiogenic chemical mediators consist of vascular endothelial growth factor (VEGF), matrix metalloproteinase (MMP), basic fibroblast growth factor (bFGF), platelet-derived growth factors (PDGFs), and interleukin-1 (IL-1) [17, 18]. The so-called VEGF family include VEGF-A, VEGF-B, VEGF-C, VEGF-D, and placental growth factor in mammals [19]. VEGF-A is the most significant member of the VEGF family and is secreted by a wide variety of heterogeneous cells, such as macrophages, T-cells, fibroblasts, pericytes, astrocytes, retinal pigment epithelial cells, and corneal cells (epithelium, keratocytes, and endothelium) [20]. Macrophages, stimulated by inflammation or injury, can also secrete VEGF-C and VEGF-D in the corneal stroma [21]. VEGF-A propagates its effect by interacting with tyrosine kinase receptors; VEGFR-1 and VEGFR-2. VEGFR-1 is a transmembrane receptor tyrosine kinase, whereas VEGFR-2 is a major signalling receptor for VEGF that prompts the proliferation and migration of vascular endothelial cells [22]. Lymphangiogenesis can be stimulated by VEGF-C and VEGF-D through interaction with VEGFR-3 [23, 24].
VEGF is not the only biological molecule playing the roles of hemangiogenesis and lymphangiogenesis. Other factors associated with corneal neovascularization are PDGFs that are involved in tissue remodelling, cell growth and division, and angiogenesis. It has been demonstrated that the interactions of ligands, such as PDGF-A and PDGF-B, with their corresponding receptors (PDGFR-a and PDGFR-b), are associated with corneal neovascularization [25, 26]. bFGF promotes corneal angiogenesis via its effects on VEGF-A, VEGF-C, and VEGF-D production [27]. MMP14 interacts with VEGFR1 and its enzymatic activity is essential for VEGFA-induced angiogenesis [18]. IL-1 is a proinflammatory molecule produced by different cells, including fibroblasts, macrophages, and neutrophils, and induces the expression of adhesion molecules, chemokines, and growth factors that lead to neovascularization [28].
Antiangiogenic factors can be categorized into endostatin/endostatin analogues (endostatin, neostatin, arresten, canstatin, and tumstatin), plasminogen/serine protease inhibitors (angiostatin and pigment epithelial-derived factor [PEDF]), and soluble VEGF receptors [29–32]. Angiostatin is an endogenous antiangiogenic factor that is cleaved from plasminogen. This factor is also produced in the cornea and can attach to several surface proteins in vascular endothelial cells and hinder their migration and tubule formation [33, 34]. The depletion of angiostatin after application of anti-angiostatin antibodies could enhance corneal neovascularization after excimer laser keratectomy in an animal model [35]. The implantation of an angiostatin pump could also reduce corneal neovascularization in an alkali-induced model [36].
Soluble VEGF receptors can block the effect of VEGF ligand by trapping VEGF and preventing its attachment to membrane-bound VEGF receptors. sVEGFR-1, the soluble truncated form of VEGFR-1, has a high affinity to VEGF-A and is necessary for the maintenance of corneal avascularity during development [31]. Similarly, sVEGFR-2 is the soluble form of VEGFR-2. The increased expression of sVEGFR-2 could inhibit lymphangiogenesis and enhance corneal graft survival by blocking VEGF-C in a suture-induced model [32]. These observations suggest that overexpression of soluble VEGF receptors can be exploited for inhibiting lymphangiogenesis and hemangiogenesis [37].
Paraclinical evaluation of corneal vascularization
As new intervention modalities become available for treating corneal neovascularization, a comprehensive clinical assessment of corneal vessels, including the level of corneal vascularization, the number of quadrants involved, and the state of vessel activity is crucial for treatment planning. Additionally, the objective evaluation of abnormal corneal vessels is important for monitoring natural course and treatment response. Corneal angiography, using fluorescein and indocyanine green, provides details of the neovascular complexes, thus enabling accurate evaluation of corneal vessel anatomy and activity [38]. Fluorescein angiography determines the vessel leakage activity and maturity, whereas indocyanine green angiography provides better depiction of capillaries and deeper vessels, especially in the presence of corneal scarring [38]. Indocyanine green angiography also helps to successfully localize and differentiate the origins and extent of corneal vessels [39]. Corneal angiography, however, is time consuming, invasive, and carry the risk for uncommon, but serious adverse reactions [40, 41]. Additionally, angiography cannot determine the depth of the neovascular complexes in relation to the associated corneal pathology.
Optical coherence tomography (OCT) angiography may offer an additional non-invasive complementary approach [42, 43]. OCT systems are now able to rapidly acquire high-resolution scans over a three-dimensional (3D) volume to reconstruct coronal sections, producing an 'en face' view of the scanned area. Additionally, it delineates pathological corneal vessels in various conditions and allows for the appreciation of the depth of the invading vessels in relation to the associated corneal pathology [42, 43]. These features are valuable when planning for surgical interventions such as anterior lamellar keratoplasty or diathermy. This new imaging system, however, has some limitations. First, it is unable to distinguish between afferent and efferent vessels [42, 43]. Second, the current OCT angiography methods are limited in resolution to an axial and lateral resolution of approximately 5 mm and 20 mm, respectively, so that components of small vessels such as capillary loops may not be discernible [44]. In addition, OCT relies on red blood cell movement and is therefore not sensitive to acellular flow, in particular, leakage [44, 45].
Treatments
Several approaches including amniotic membrane transplantation, topical nonsteroidal anti-inflammatory and corticosteroid medications, argon and yellow dye laser photocoagulation, photodynamic therapy, cautery, and fine needle diathermy have been advocated to shut new corneal vessels. More recently, the advent of anti-VEGF antibodies has led to a surge of interest in using these agents for the management of corneal angiogenesis. These treatments, however, have partial efficacy and may lead to a multitude of side effects (Table
1
). The following sections review the current approaches for corneal neovascularization and their complications. These data are derived from studies on either animal models or human corneas (Table
2
).
Table 1
Current approaches for the management of corneal neovascularization; advantages, limitations, and complications
| Treatment | Advantages | Limitations | Complications |
| --- | --- | --- | --- |
| Corticosteroids | Reduction in inflammation and corneal neovascularization | Limited effects on pre-existing mature corneal vessels | Superinfection, glaucoma, and cataract formation |
| Laser | Simple and tolerable procedure, obliteration of corneal efferent vessels | Frequent reopening of the afferent vessels, ineffective in extensive corneal neovascularization | Inadvertent damage to the corneal endothelium or crystalline lens, and suture lysis |
| Fine needle diathermy | Inexpensive, obliteration of afferent and efferent vessels at different corneal depth | Reopening of the afferent vessels necessitating retreatment | Corneal micro perforation, intracorneal haemorrhages, transient opacification of the cornea, and striae |
| Anti-VEGF agents | Effective on active young vessels | Expensive, limited anti-angiogenic effects on stable mature and deep vessels, difficulties in manufacturing, short half-lives | Persistent epithelial defects and stromal thinning with topical bevacizumab |
Table 2
Animal and human studies evaluating various treatments for corneal neovascularization
| Intervention | Animal studies | Human studies |
| --- | --- | --- |
| Immunomodulation | Lu et al. [28], Zapata et al. [48], Cejkova et al. [49], Park et al. [50] | |
| Laser treatment | | Baer and Foster [52], Marsh [54], Kumar et al. [55], Sheppard et al. [58] |
| Fine needle diathermy | – | Faraj et al. [60], Romano et al. [62, 64], Spiteri et al. [63] |
| Anti-VEGF antibodies | Avisar et al. [75], Lee et al. [76], Lin et al. [78], Ozdemir et al. [80], Kim et al. [81], Bucher et al. [85], Liarakos et al. [86], Kim et al. [87], Akar et al. [88], Dursun et al. [89], Sener et al. [90], Oliveira et al. [92] | Dastjerdi et al. [65], Ferrari et al. [66], Krizova et al. [68], Koenig et al. [77], Chu et al. [79], Kim et al. [82] |
| Tyrosine kinase inhibitors | Senturk et al. [95], Saishin et al. [96], Onder et al. [97], Pérez-Santonja et al. [98], Kaya et al. [99] | – |
| Other treatments | Chen et al. [101], Duh et al. [102], Mori et al. [103], Jin et al. [105], Chaoran et al. [106], Dell et al. [107], Berdugo et al. [108], Cloutier et al. [110] | |
| Combination therapy | Aydin et al. [113], Murata et al. [114], Ozdemir et al. [115], Hoffart et al. [116], Kim et al. [120] | |
Conclusions
Corneal angiogenesis is a common endpoint in different ocular surface conditions including chemical injury, trauma, chronic contact lens wear, autoimmune diseases, infectious keratitis, and corneal graft rejection. Although corneal angiogenesis is useful in halting stromal melts, facilitating wound healing, and dissipating infections, it sacrifices corneal clarity by inducing persistent inflammation, oedema, lipid deposition, and tissue scarring, resulting in bad vision. In addition, breaching corneal immune privilege by new vessels promotes corneal graft rejection. VEGF plays an important role in the pathologic neovascularization in a huge number of eye diseases hence, it is the most important target for anti-angiogenic treatments. According to literature, anti-VEGF agents are quite effective in occluding actively growing blood vessels but not established large vessels in which surgical approaches, such as fine needle diathermy or laser photocoagulation, are invaluable.
Declarations
Authors' contributions
SF performed the literature review. AAA and SS participated in drafting the manuscript. All authors read and approved the final manuscript.
Ethics approval and consent to participate
Not Applicable.
Competing interests
The authors declare that they have no competing interests.
Open AccessThis article is distributed under the terms of the Creative Commons Attribution 4.0 International License (http://creativecommons.org/licenses/by/4.0/), which permits unrestricted use, distribution, and reproduction in any medium, provided you give appropriate credit to the original author(s) and the source, provide a link to the Creative Commons license, and indicate if changes were made. The Creative Commons Public Domain Dedication waiver (http://creativecommons.org/publicdomain/zero/1.0/) applies to the data made available in this article, unless otherwise stated.
Authors' Affiliations
(1)
Ophthalmic Research Center, Labbafinejad Medical Center, Shahid Beheshti University of Medical Sciences, Tehran, Iran